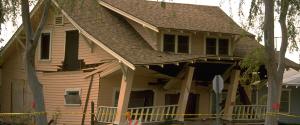 Earthquakes are sudden rolling or shaking events caused by movement under the earth's surface. Earthquakes happen along cracks in the earth's surface, called fault lines, and can be felt over large areas, although they usually last less than one minute. Earthquakes cannot be predicted — although scientists are working on it!
All 50 states and 5 U.S. territories are at some risk for earthquakes.  Earthquakes can happen at any time of the year.
Look around places where you spend time.  Identify safe places such as under a sturdy piece of furniture or against an interior wall in your home, office or school so that when the shaking starts, you Drop to the ground, Cover your head and neck with your arms, and if a safer place is nearby, crawl to it and Hold On. 
Practice how to "Drop, Cover, and Hold On!"

To react quickly you must practice often. You may only have seconds to protect yourself in an earthquake.

Before an earthquake occurs, secure items that could fall and cause injuries (e.g., bookshelves, mirrors, light fixtures).
Store critical supplies (e.g., water, medication) and documents.
Plan how you will communicate with family members, including multiple methods by making a family emergency communication plan.
When choosing your home or business, check if the building is earthquake resistant per local building codes.